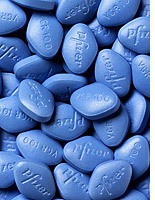 Valentine's Day. Hearts, candy, chocolates, roses; if your car isn't buried under a snowdrift somewhere in the Northeast, maybe a nice dinner out or a movie. It can get costly. And in Britain, as of the 14th of February, men can add another USD100 to the total Valentine's price: the cost of a pharmacist provided pack of Viagra.
That's right, a British pharmacy chain has decided to sell small samples of Viagra over-the-counter. If you're between 30 and 65, male, and are willing to sit through an hour long consultation with the pharmacist, take a blood pressure, glucose, and cholesterol test, you too can buy four pills of Viagra.
The theory behind all of this, launched on Britain's National Impotence Day (a shared date with Valentine's), is that some men are just too shy to talk to their doctor about erectile dysfunction, and so are suffering in silence. This may very well be the case – but is an hour long visit with a pharmacist going to be easier than a doctor's visit? Is it going to be so easy that it suddenly makes going to the doctor a walk in the park? (If you decide you like the effects of the Viagra, you've to see a physician for a 'script.) For that matter, should pharmacists even be prescribing medications?
And does anyone else marvel at the fact that for USD100, you can have an hour of a pharmacist's time, several tests on your health done, and a mini-prescription filled? It's more time than most people ever spend with their physician, for a lot less money!
Woops: Another quick search of the news sites before posting shows that it really was just a big marketing push. The pharmacy isn't actually offering the OTC pills 'til Monday, and you have to schedule your appointment in advance. Sort of takes the spontaneity out of that one…

-Kelly Hills
Labels: Britain, erectile dysfunction, Valentine's, Viagra